I decided that the Bulls vs Pistons game on 1/11/10 was the 2nd best game I have ever attended for a VERY different reason my number one is number one. So I must first tell the story of the absolute best Bulls game I have attended.
The #1 game that I have ever been to was the championship clinching game in the 1992 NBA Finals. I went with my oldest brother Tony, who ironically knows the least about basketball [love ya bro!] The Bulls were down 15 points going into the 4th quarter. I specifically remember my brother asking me if I wanted to leave already [probably to beat traffic]. Being only 13 years old and only getting to go to one maybe two Bulls games a year, of course I wanted to stay. And a good thing we did. Phil Jackson put in his reserves and Scottie Pippen. The bench proceeded to cut into the lead within 4 minutes. Portland turned the ball over and over early in the 4th. By the 9 minute mark, the Bulls cut the lead to 3, and then they brought in Jordan. I think you probably know how that one ends. Here are a couple videos of that comeback:
Here is a picture from that game as well as the ticket stub that I still have to this day: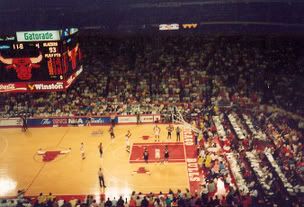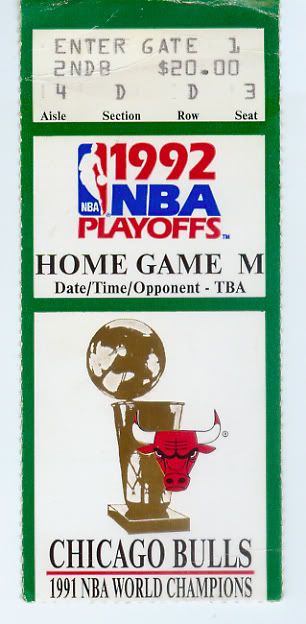 So obviously the #1 game was due to the championship that was won while I was there, the basketball aspect of the game. As I said earlier, the #1 and #2 games are quite different!
The #2 game just happened this past Monday at the United Center. The Pistons were coming in with a 12 game losing streak, and the Bulls were 15-19, seemed like just the usual regular season game. Not this time!
Yeah the Bulls won by 32 points and Ben Gordon didn't get to have his "revenge" against his old team [mainly because he got injured]. But besides all of that basketball stuff that was going on, I got an opportunity to participate in the Air Guitar contest. Now I know as a concept, air guitaring is just silly. But I get to "perform" for a sold NBA arena? Yeah, I'll do whatever it takes to do that. If you know me you know I like to perform. So lo and behold, the video...
Thanks Tracy for the video!
After my win, my 30 minutes of fame started. I did not even think that this would happen or that anyone would even remember me. As I walked thru the United Center I was getting high fives from strangers and whispering all around me. Now I knew it was just for the rest of the game, so I just enjoyed it. Thanked anyone who said hi or "CONGRATULATIONS!" or "HEY THE AIR GUITAR GUY!"...haha, it was real silly, but also super fun.
And to add icing on this awesome cake, Marlon got a hook-up and we were able to get access to ANYWHERE in the United Center. We didn't get courtside seating, but we got to sit right next to the tunnel. I could absolutely get used to that view. Now I just need to figure out how to win the lotto or invent something to pay for season tickets for the courtside seats. Who wants in?