We've been almost done with our Christmas shopping for like 3 weeks now. We knocked out pretty much all of our shopping the first weekend after Thanksgiving, but always had like 3 or 4 people left to shop for. Have we finished it yet? NOPE! Now with less than a week left it is CRUNCH TIME! In all honesty, I haven't even gotten Jaz's gift yet. She knows...and I know what I want to get her. I will hopefully will be get it tomorrow when I am off.
I've slowed down the collecting considerably over the past month or so and just looking to just pay of credit card debt for now. It's amazing how quickly it all adds up. I have been paying off twice a month for a little while so I am making some good headway. Hopefully when my increase kicks in [however much it is] I can pay it off quicker. Also I'm thinking it is almost time to give my car [Jerry] the retirement it deserves. I haven't looked at any cars, but we'll have to wait until my bills are paid off. I kind of went crazy at the last show. I was planning on going all out and just buying a case of Exquisite, and hope for a Jordan auto or something. Turns out there were two cards I needed for my collection - both of Tyrus. His rainbow SPGU /10 and his Topps Chrome Superfractor 1/1. Two great additions to the collection. I'm just looking for the rest of the SPGU rainbow /10s. Wish me luck!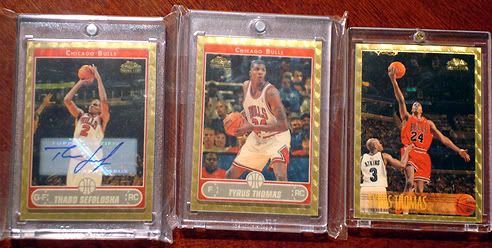 One last thing...
At work we're doing this thing called the Holiday Trio. Basically you get into teams of three and try to lose or at least maintain your weight throughout the holiday season. I was dropping a pound or two over each of the past weekends, but then I got sick this past Tuesday, and then BAM! I lost like 6 lbs. It may not be the conventional way of losing weight, but it counts! We've got two more weigh-ins until after the New Year.
Ok one more last thing...
Bulls suck.